USE OF AGROINDUSTRIAL BY-PRODUCTS IN THE PRODUCTION OF BRIQUETTES
Keywords:
Energy, Solid biofuel, Residual biomass
Abstract
The current world energy scenario is the search for cleaner fuels and new sources of renewable energy, with emphasis on the use of residual biomass. The present work seeks to evaluate the physical-chemical characteristics of briquettes produced from sugarcane bagasse, cassava bagasse and poultry litter.The by-products underwentanalysis before and after briquetting. Briquettes with different mixture percentages (M1, M2 and M3) were produced. The briquettes produced presented values of energetic efficiency, mechanical resistance and apparent and energetic density consistent with values in the literature and international standards. Regarding the ash content, none of them fit in the European briquettes manufacturing parameters. The mixture with better energy efficiency was M2, with a calorific value of 16.41 MJ/kg and also the smallest ash content of 7.96% and the best C/H ratio, hydrogen and carbon percentage, thus being the one with the largest burning energy potential. The use of briquettes produced from residual biomass presents many advantages, contributing to economic, social and environmental aspects.
Downloads
Download data is not yet available.
References
ALI, N. U.; NINA, P. M.; TARLUE, P. J. V.; NAKANWAGI, R.; KUTIOTE, J. O. E.; NUR, A. A.; CHANDA, P. Asses-sment of biomass briquette use as alternative source of renewable energy in kampala district. African Journal of Environment and Natural Science Research. V.2 p.68-76, 2019.
ALVES, D. A. H. Avaliação do potencial energético de re-síduos de produção agrícola provenientes do beneficia-mento da mandioca e do milho.Universidade Federal de Alagoas, 2014.
ASSOCIAÇÃO BRASILEIRA DE NORMAS TÉCNI-CAS.NBR5739:Ensaio de compressão de corpos de prova cilíndricos. 2018.
BONASSA, G.; SCHNEIDER, L. T.; CANEVER, V. B.; CREMONEZ, P. A.; FRIGO, E. P.; DIETER, J.; TELEK-EN, J. G. Scenarios and prospects of solid biofuel use in Brazil. Renewable and Sustainable Energy Reviews.V.82, p. 2365-2378, 2018. https://doi.org/10.1016/j.rser.2017.08.075
BORGES, A. C. P.; SILVA, M. S.; ALVES, C. T.; TOR-RES, E. A. Energias renováveis: uma contextualização da biomassa como fonte de energia. REDE-Revista Eletrôni-ca do PRODEMA.Fortaleza, Brasil, v.10, n.2, p.23-36, 2016. https://doi.org/10.22411/rede2016.1002.02
BRAND, M. A. Energia de Biomassa florestal. Rio de Ja-neiro: Interciência, 2010. 114 p.
COSTA, S. C. Briquetes a partir de resíduos de biomassa agrícola. Programa de Pós-graduação em ciências ambi-entais, UNISUL. 2019.
DIAS, J. M. S. SANTOS,D. T.; BRAGA, M.; ONOYAMA, M. M.; MIRANDA, C. H. B.; BARBOSA, P; F; D.; ROCHA, J; D. Produção de briquetes e péletes a partir de resíduos agrícolas, agroindustriais e florestais.Brasília, DF: Embra-pa Agroenergia, 2012. 132 p.
DIN CERTCO. Certification scheme wood briquet-tes.Berlim, Junho de 2015.
EMBRAPA. Empresa Brasileira de Pesquisa Agropecuá-ria. Produção de energia com resíduos da agropecuária -2015. Disponível em: <https://bit.ly/2yTpWsx>. Acesso em: 03/05/2020.
https://doi.org/10.17138/TGFT(2)18-20
EPE. Empresa De Pesquisa Energética.Balanço Energéti-co Nacional 2020: ano base 2019.Rio de Janeiro, EPE, 2020.
EPE. Empresa de Pesquisa Energética. Estudos da de-manda de energia.2016. Disponível em: <https://bit.ly/2WT6c03>. Acesso em: 03/05/2020.
EUROPEAN PELLET COUNCIL. Associação Européia de Biomassa. Manual EN plusparte 3 -Requisitos de Quali-dade de Pellets. Bélgica, V 3.0, Agosto de 2015.
FONTES, P. J. P. de; QUIRINO, W. F.; PASTORE JUNI-OR, F.; FILGUEIRAS, S. M. S. Aglutinante para briqueta-gem de carvão vegetal.Brasília: DPQ/IBDF, 1984.
GENTIL, L.V.B. Tecnologia e Economia do Briquetede Madeira. 2008.195p.Tese (Doutorado em Engenharia Flo-restal), Universidade de Brasília, Brasília, 2008.
GOES, T. A energia que vem da cana-de-açúcar.Agencia Embrapa de Informações Tecnológicas, 2008.
GONÇALVES, J.E.; SARTORI, M.M.P.; LEÃO. A.L. Ener-gia de briquetes produzidos com rejeitos de resíduos sóli-dos urbanos e madeira de Eucalyptus grandis. Energia Agrícola e Ambiental, v.13, n.5, p.657-661, 2009. https://doi.org/10.1590/S1415-43662009000500021
IBGE. Produção Agrícola Municipal 2017.Disponível em: <https://biblioteca.ibge. gov.br/visualizacao/periodicos/66/pam_2017_v44_br_informativo.pdf>. Acesso em: 04/05/2020.
IEA Bioenergy. Sustainable international bioenergy trade: securing supply and demand 2015. 2015.
KIM, D.; LEE, K.; PARK, K. Y. Upgrading the characteris-tics of biochar from cellulose, lignin, and xylan for solid bi-ofuel production from biomass by hydrothermal carboniza-tion. Journal of industrial and engineering chemistry. V.42, p.95-100, 2016. https://doi.org/10.1016/j.jiec.2016.07.037
LIMA, E. A.; ABDALA, E. M.; WENZEL, A.A. Influência da umidade no poder calorífico superior da madeira. Embra-pa, 2008.
MAROZZI, C, R, B. Caracterização de Resíduos Agroin-dustriais e Florestais Visando a Briquetagem. 28 p. Uni-versidade Federal do Espírito Santo, Gerônimo Monteiro, ES, 2012.
MARTINS, M. P. et al. Produção e avaliação de briquetes de finos de carvão vegetal compactados com resíduo ce-lulósico proveniente da indústria de papel e cellulose. Re-vista Árvore, Viçosa, v. 40, n. 1, 2016. https://doi.org/10.1590/0100-67622016000100019
MONTAGNA, T. B. Levantamento e análise de técnicas-para disposição e tratamento de dejetos de suínos e de aves em estabelecimentos rurais familiares.Unioeste. Francisco Beltrão, 2017.
NEITZKE, G. Geração elétrica distribuída a partir da ga-seificação de pellets de cama de aviário. Universidade de Brasília, Departamento de Engenharia Mecânica, Brasília, 2010.
PARIKH, J.; CHANNIWALA, S.A.; GHOSAL, G.K. A cor-relation for calculating HHV from proximate analysis of so-lid fuels.Science Direct.19 November 2004.
PIMENTA, A. S.; SANTOS, R. C.; CARNEIRO, A. C. O.;CASTRO, R. V. O. Utilização de resíduos de coco (Cocos nucifera) carbonizado para a produção de brique-tes. Ciência Florestal, Santa Maria, v. 25, n.1, p.137-144, 2015 https://doi.org/10.5902/1980509817471
PROTÁSIO, T. P.; ALVES, I. C. N.; TRUGILHO, P. F.; SILVA, V. O.; BALIZA, A. E. R. Compactação debiomassa vegetal visando à produção de biocombustíveis sólidos. Pesquisa Florestal Brasileira, v.31, p.273-283, 2011. https://doi.org/10.4336/2011.pfb.31.68.273
PROTÁSIO, T. P.; BUFALINO, L.; TONOLI, G. H. D.; COUTO, A. M.; TRUGILHO, P. F.;GUIMARÃES JÚNIOR, M. Relação entre o poder calorífico superior e os compo-nentes elementares e minerais da biomassa vegetal. Pesquisa Florestal Brasileira, Colombo, v. 31, n. 66, p.122-133, 2011. https://doi.org/10.4336/2011.pfb.31.66.113
PATTIYA, A.; TITILOYE J. O.; BRIDGWATER, A. V. Eva-luation ofcatalytic pyrolysis of cassava rhizome by princi-pal component analysis. Fuel, v. 89, p. 244-253, 2010. https://doi.org/10.1016/j.fuel.2009.07.003
PAULA, L. E. R.; TRUGILHO, P. F.; NAPOLI, A.; BIAN-CHI, M. L. Characterization of residues from plant bio-mass for use in energy generation. Cerne, v.17, p.237-246, 2011. https://doi.org/10.1590/S0104-77602011000200012
QUIRINO, W. F.; BRITO, J.O. Características e índice de combustão de briquetes de carvão vegetal. Brasília: LPF/IBAMA, 1991. 18p.
RAMOS E PAULA, L, E. Produção e Avaliação de Brique-tes de Resíduos Lignocelulósicos.72 p. Dissertação apre-sentada ao Programa de Pós-Graduação em Ciência e Tecnologia da Madeira -Universidade Federal de Lavras, Lavras -MG, 2010.
SAWIN, J. L.; BHATTACHARYA, S. C.; GALAN, E. M.; McCRONE, A.; MOOMAW, W. R.; SONNTAG-O'BRIEN, V.; SVERRISSON, F.; CHAWLA, K.; MUSOLINO, E.; SKEEN, J.; MARTINOT, E. Renewables 2012 Global Sta-tus Report. Paris: REN21, 2012. Disponível em: <https://bit.ly/3bpsJak>. Acesso em: 03/05/2020.
SILVA, V, V.; MAGALHAES, D, S; SIQUEIRA, W, C. Po-der calorífico de briquetes artesanais fabricados comdife-rentes tipos de aglutinantes. Instituto Federal do Norte de Minas Gerais, Campus Araçuaí, 2018.
SOARES, L. S.; MORIS, V. A. S.; YAMAJI, F. M.; PAIVA, J. M F. Utilização de Resíduos de Borra de Café e Serra-gem na Moldagem de Briquetes e Avaliação de Proprie-dades.Matéria. Rio de Janeiro, v. 20,n. 2,p. 550-560, 2015. https://doi.org/10.1590/S1517-707620150002.0055
TEIXEIRA, S. R.; PENA, A. F. V.; MIGUEL, A. G. Briquet-ting of charcoal from sugarcane bagasse fly ash (scbfa) as an alternative fuel.Waste management, v.30, n.5, p.804-807, 2010. https://doi.org/10.1016/j.wasman.2010.01.018
VIEIRA, A.C.M. Caracterização da biomassa proveniente de resíduos agrícolas para geração de energia.2012. 56p. Dissertação (Mestrado de Energia na Agricultura), Univer-sidade Estadual do Oeste do Paraná, Cascavel, 2012.
ZANATTA, E. R. Estudo Cinético da Pirolise das biomas-sas: Bagaço de mandioca, Casca de soja e Bagaço de Cana. Unioeste. Toledo, 2012.
ZENATTI, D. C.; COSTA, A. A.; HERMES, E.; VILVERT, R. M.; DIAS, L. C. Quantificação de açúcares redutores em hidrolisado do bagaço da mandioca para uso na pro-dução de metano. Revista gestão e sustentabilidade am-biental.Florianópolis, n. esp, p.616-627, 2015. https://doi.org/10.19177/rgsa.v4e02015616-627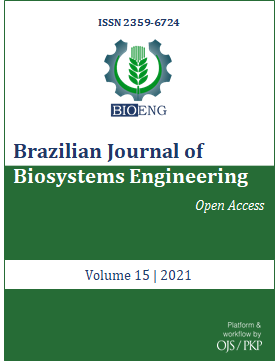 Downloads
Published
2021-07-17 — Updated on 2021-05-04
How to Cite
GUSTAVO TELEKEN, J.; ZANOVELLI NALEVAIKO, J.; ANDRÉ CREMONEZ, P. USE OF AGROINDUSTRIAL BY-PRODUCTS IN THE PRODUCTION OF BRIQUETTES. Revista Brasileira de Engenharia de Biossistemas, Tupã, São Paulo, Brazil, v. 15, n. 1, p. 1–26, 2021. DOI: 10.18011/bioeng2021v15n1p1-26. Disponível em: https://seer.tupa.unesp.br/index.php/BIOENG/article/view/980. Acesso em: 20 oct. 2021.
License
Copyright (c) 2021 Revista Brasileira de Engenharia de Biossistemas
This work is licensed under a Creative Commons Attribution 4.0 International License.
Authors who publish in this journal agree to the following terms:
a) Authors retain the copyright and grant the journal the right of first publication, with the work simultaneously licensed under the Creative Commons Attribution License that allows the sharing of the work with recognition of authorship and initial publication in this journal.
b) Authors are authorized to assume additional contracts separately, for non-exclusive distribution of the version of the work published in this journal (eg, publish in an institutional repository or as a book chapter), with recognition of authorship and initial publication in this journal.