BROMATOLOGICAL ANALYSIS OF GUANDU BEAN CULTIVATED IN RED WATERFOOD IN THE SEMI-ARID FOR FORAGE PRODUCTION
Keywords:
Animal feed, Dry matter, Protein bank
Abstract
In the semiarid region, mitigation policies to fight droughts have been implemented. Protein banks are one of the strategies used to secure the supply of food for animals, where native or adapted forage plants are cultivated. Pigeon pea (Cajanus cajan (L.) Mills) is one of the legumes used in animal feed through forage production, with characteristics of adaptation to the climatic conditions of the Semiarid region. The research was carried out at the Experimental Agrometeorological Station-EstAgr/DCA, located in the city of Campina Grande-PB. The objective of this research was to carry out chemical analysis of dry matter (DM) and mineral analysis for pigeon pea of ​​the biocolor DC variety, being cultivated in a rainfed system distributed in three plots using treatments T1 (1.0 m x 0.50 m), T2(1.0 m x 1.0 m) and T3(1.5 m x 1.5 m). The design was completely randomized, measuring the mean for the variables. The results demonstrated the forage potential for animal feed of pigeon pea cultivated in protein banks in the semiarid region under rainfed condition.
Downloads
Download data is not yet available.
References
AZEVEDO, R. L.; RIBEIRO, G. T.; AZEVEDO, C. L. L. Feijão guandu: uma planta multiuso. Revista da FAPESE, v. (3), n. 2, p. 81-86, 2007.
AMARAL, E. F. Amostragem de solo para avaliação da fertilidade. Embrapa Acre-Séries anteriores (INFOTECA-E), 1997.
BECKER, C. T., MELO, M. M. M. S., COSTA, M. N. M. Desempenho temporal de séries pluviométricas no estado da Paraíba: uma análise comparativa. In Workshop Internacional sobre Água no Semiárido Brasileiro (Vol. 1, pp. 1-5). 2013).
COSTA, N.L.; TOWNSEND, C.R.; MAGALHÃES, J.A.; PEREIRA, R.G.A.
Formação e manejo de pastagens de guandu em Rondônia. 2p. Recomendações Técnicas, 23. Porto Velho: Embrapa Rondônia, 2001.
DOORENBOS, J., PRUITT, W. O. Necessidades hídricas das culturas. Campina Grande: UFPB, 75p. Estudos FAO: Irrigação e Drenagem, 24, 1997.
FONTANELI, R.S.; FONTANELI, R.S. Qualidade de forragem. Forrageiras para integração lavoura-pecuária-floresta na região Sul-Brasileira. Passo Fundo: Embrapa Trigo, Cap.1, p.25-31, 2009.
GUEDES, F. L., PONTE FILHO, F. A. M., GAMA, L. D. S., SOUZA, H. A., POMPEU, R. Metodologia para determinação do estresse hídrico em feijão guandu em solos com diferente textura no Semiárido cearense. Embrapa Caprinos e Ovinos-Comunicado Técnico. 2017.
MOREIRA, V. F., PEREIRA, A. J., GUERRA, J. G. M., GUEDES, R. E., COSTA, J. R. Produção de biomassa de guandu em função de diferentes densidades e espaçamentos entre sulcos de plantio. Embrapa Agrobiologia. Comunicado Técnico. 2003.
MONTEIRO, J. E. B. A. Agrometeorologia dos Cultivos, o fator meteorológico na produção agrícola. Instituto Nacional de Meteorologia (INMET), Brasília, DF, 1ª edição, p. 530, 2009.
OLIVEIRA, A. R. P. avaliação da importância do controle de qualidade na produção de ração animal extrusada: um estudo de caso. Revista GeTeC. V. 7, n. 15, 2018.
PARIZ, C. M., ANDREOTTI, M., BERGAMASCHINE, A. F., BUZETTI, S., COSTA, N. R., CAVALLINI, M. C. Produção, composição bromatológica e índice de clorofila de braquiárias após o consórcio com milho. Arquivos de zootecnia, v. 60, n. 232, p. 1041- 1052, 2011.
PEREIRA, E. S., PIMENTEL, P. G., DUARTE, L. S., MIZUBUTI, I. Y., ARAÚJO, G. G. L., CARNEIRO, M. S. S., REGADAS FILHO, J. G. L., MAIA, I. S. G. Determinação das frações proteicas e de carboidratos e estimativa do valor energético de forrageiras e subprodutos da agroindústria produzidos no Nordeste brasileiro. Ciências Agrárias, v. 31, n. 4, p. 1079-1093, 2010.
PEREIRA, J. O feijão Guandu: uma opção para a agropecuária brasileira. Planaltina, Embrapa-CPAC. Circular técnica. n° 20, 27 p., 1985.
RAMOS. G. M. Recomendações práticas para o cultivo do guandu para produção de feno. Teresina: EMBRAPA-CPAMN. Circular Técnica, 13, p. 13-16, 1994.
SILVA, S. P. ; MELO, J. C. R.; GUEDES, F. L.; DUTRA, M. de S.; SOUSA, Y. H. L. de; BOMFIM, M. A. D. encontro de iniciação científica da embrapa caprinos e ovinos. Sobral: Embrapa Caprinos e Ovinos, p. 31-32. 2017.
SKERMAN, P. J. Tropical forage legumes. Rome, FAO, 610p. 1977.
SALMAN, A. K., FERREIRA, A. C. D., SOARES, J. P. G., SOUZA, J. P. Metodologias para avaliação de alimentos para ruminantes domésticos. Embrapa Rondônia-Documentos INFOTECA-E, 2010.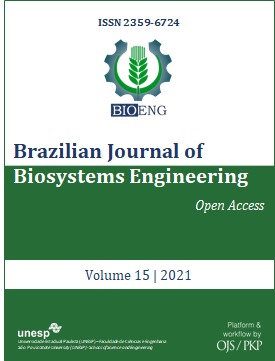 Downloads
How to Cite
DANTAS, S. M.; RODRIGUES, V. de P. .; NEVES, R. da S. .; BARBOSA, R. R. .; MATSUNAGA, W. K. . BROMATOLOGICAL ANALYSIS OF GUANDU BEAN CULTIVATED IN RED WATERFOOD IN THE SEMI-ARID FOR FORAGE PRODUCTION . Revista Brasileira de Engenharia de Biossistemas, Tupã, São Paulo, Brazil, v. 15, n. 3, p. 381–390, 2021. DOI: 10.18011/bioeng2021v15n3p381-390. Disponível em: https://seer.tupa.unesp.br/index.php/BIOENG/article/view/938. Acesso em: 1 dec. 2021.
License
Copyright (c) 2021 Revista Brasileira de Engenharia de Biossistemas
This work is licensed under a Creative Commons Attribution 4.0 International License.
Authors who publish in this journal agree to the following terms:
a) Authors retain the copyright and grant the journal the right of first publication, with the work simultaneously licensed under the Creative Commons Attribution License that allows the sharing of the work with recognition of authorship and initial publication in this journal.
b) Authors are authorized to assume additional contracts separately, for non-exclusive distribution of the version of the work published in this journal (eg, publish in an institutional repository or as a book chapter), with recognition of authorship and initial publication in this journal.